"Dazzling Bestiary" Solo Show at AnArte Gallery in Texas, April 2020
A "Dazzling Bestiary" is a compilation of paintings inspired by animal figurines, gemstones, and gold. They are an invitation to new narratives and contemporary fables.
Since my childhood I was addicted to reading Aesop fables. I believed all these creatures could actually talk, get dressed, and have human-like routines. As an adult, I have a profound respect for animals. I do believe they are here to teach us about the world. Through my "Dazzling Bestiary" I pay tribute to them.
********Postponed due to COVID19*********
"Dazzling Bestiary" Solo show at AnArte Gallery in Texas April 2020
Portraits by PatVal Studio72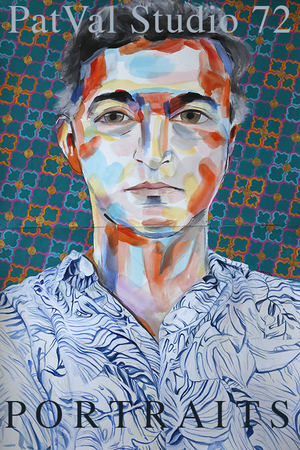 Proud to announce a new partnership with artist Patricia Iranzo.

We are an Art Team: Two Painters. Two Hands. One Portrait.

For unique portraits contact us at:
PatValStudio72@gmail.com
USA: +1-347-204-7652
EUROPE: +34-652-514-405
During the past six months my studio mate, Spanish artist Patricia Iranzo and I have been
developing an exciting new body of work that will be exhibited in October at the MAAJA Museum in Jericó, Colombia, South America.
The exciting part of this project is that we have been painting on the same pieces, at the same time. Being an artist is a lonely profession, so this has been a very interesting and enriching process,
a
nd we are thrilled to be able to share it with you.
After this experience, we are also happy to announce
PatVal Studio72 as a new partnership between Spanish artist Patricia Iranzo and Colombian artist Sandra Mack-Valencia. You can follow us on Instagram at
https://www.instagram.com/patvalstudio72/?hl=en
Solo Show at AnArte Gallery
Opening: Dec.5th, 2018 On view until Dec. 31st, 2018
AnArte Gallery 7959 Broadway #404, San Antonio, TX

"Good Luck, Good Fortune" is the title of my upcoming solo show at AnArte Gallery in San Antonio, Texas. The paintings from this series are a call to remind us that we are in the world to be happy, to connect to others, to be in communion with nature and with the self. This new body of work is populated by lots of elephants and chandeliers. Elephants as symbols of wisdom, strength and luck, and chandeliers as symbols of balance and fortune.
Come and join us on Wed. Dec. 5th, 2018 for the opening. It will be fun!



On Scaffolding of Teatro Comunale de L'Aquila, among the most important symbols of the cultural life of town, have been installed the works of Sandra Mack Valencia, Federico Mass and Alexis Duque,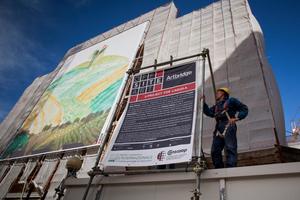 I am beyond myself! Thank you Off Site Art / Artbridge for this incredible opportunity. To bring art to an Italian city that is being rebuilt and reborn L'Aquila. And to top it all, the jurors for this project were: Ian Alteveer, curator at the NY Metropolitan Art Museum, Valerio Bindi, Anti-director del Crack, architect, illustrator and cartoonist, and Malin Fezehai, photographer and film maker. I can't express how overwhelmed with joy I am. I always wish my dad were alive, but today I really wish he could have seen this.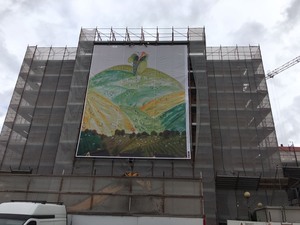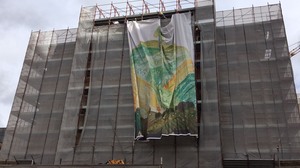 A special thanks to Veronica Santi, and to the workers and technicians of consoop and the international!
Whitny Houston Biennial 20017
I am honored to be part of this massive exhibition curated by Christine Finley. My female pioneer is Colombian painter Débora Arango.
THE WHITNEY HOUSTON BIENNIAL: GREATEST LOVE OF ALL
The 2017 Whitney Houston Biennial: Greatest Love of All comes as a response to the awakening representation of women artists in major museums and galleries. To highlight female artists in New York this season, curator and artist Christine Finley will host female artists from a varied range of geographic and cultural backgrounds, disciplines, methodologies, and generations. The aim of bringing together so many creative voices is to sing a collective song that celebrates the contributions of pioneering female artists and marks a moment in our communal trajectory. In this newest incarnation, Finley is asking each artist to select a female pioneer who inspires them to accompany their work of art, thereby expanding the show through generations of inspiring women who came before them.
Solo Show: Ordinary Queens at AnArte Gallery in Texas
Excited to be showing my beloved queens at AnArte Gallery in San Antonio Texas. I am ready to blow you off your feet with my Ordinary Queens. Want to see a bride riding a bull? A Sugar Mom? A feisty Reina Santa? Come and join us for for the opening on February 9th, 2017 from 6-8pm at 7959 Broadway St. San Antonio, Texas. There will be art, music, drinks, and great people around.
5th BRONX LATIN AMERICAN ART BIENNIAL 2016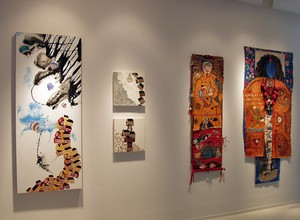 Longwood Art Gallery @ Hostos
Sept.19th-Dec.07 2016
450 Grand Concourse Room C-190 Bronx, NY
Opening Reception Oct.5th, 2016 5-9pm

I am honored to be participating in this year's Fifth Bronx Latin American Art Biennial which explores some of today's local, national and international social issues. This exhibit will take place in different venues in New York City: Bronx ArtSpace ▪ Bronx Museum of the Arts ▪ The Andrew Freedman Home ▪ The Hebrew Home at Riverdale ▪ Longwood Art Gallery @ Hostos, and Poe Park Visitor Center Gallery.
Polymorphous Group show at Cluster Gallery
Group show at The Cluster Gallery
Sept.9th-Sept 30th, 2016
Opening: Sept. 9th, 2016 6-8pm

Art Cluster Gallery opens its doors with this inaugural exhibition. I am beyond thrilled to have one of my paintings in this ambitious show. It was curated by Joel Carreiro, and it displays works from artists that are also writers, curators, collectors, gallery founders, and true arts and culture passionates. The show goes from Sept. 9th -30th, 2016. Cluster Gallery @ 200 East 6th St. 3E Brooklyn, NY
10th Annual Exhibit at Church of St.Paul the Apostle Corner of West 60th and Columbus Ave, New York, NY. 10019

Opening: Thursday Sept. 15th, 2016 7-9pm
Show runs from Sept.9th - Oct. 20th, 2016

I have always thought that everything one does should be beautiful, especially nowadays that racist and hate speeches seem to be the norm. I celebrate this exhibit theme and feel very proud of being invited to exhibit by curators Keena Gonzalez and Michael Berube.
Coney Island is one of my favorite places in New York City. It always appeared to me that it embraced the magical realism from García Márquez. I am beyond excited to be included in the exhibit "Sodom by the Sea Salon" by the Coney Island Museum. This is a Companion Show to the Brooklyn Museum's "Coney Island: Visions of An American Dreamland, 1861-2008"
The show runs from Nov 7, 2015 -Feb 6, 2016. The Opening Reception is Sat. Nov.7 2-4:30pm. Come and have fun! It's Coney Island after all!